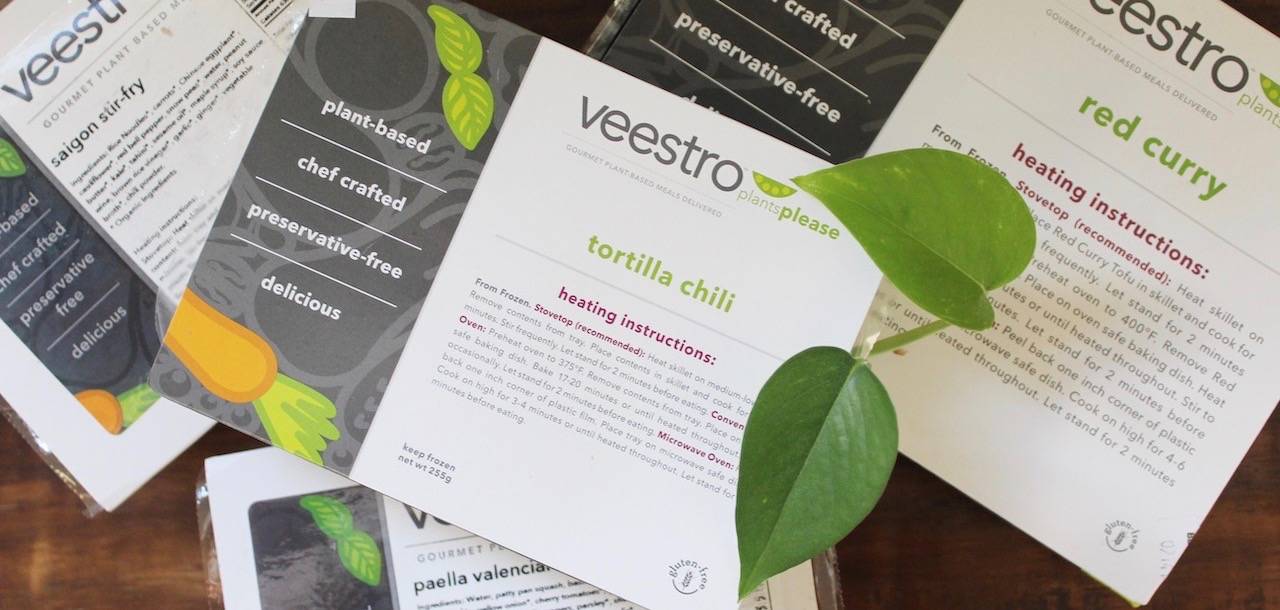 PRESS RELEASE - 07/05/2016
Veestro debuts new brand identity, signaling growth and evolution
(Los Angeles, CA) July 5, 2016 – Veestro, the leading gourmet plant-based meal delivery service, announced today that it has unveiled a refreshed brand, logo and website designed to better reflect its innovation and evolution as a growing leader. The new logo embraces a clean design with cool grey and vibrant green tones, symbolizing the simplicity behind the brand and freshness of the meals. The revamped website provides consumers with a seamless experience, offering quick and easy access to essential information about the company's products and services. Accompanied with a newly adopted purpose statement, "Plants Please," the rebranding both reflects the ingredients of Veestro's meals and its mission of bringing nutritious plant-based meal options to every consumer.
Understanding the demands of everyday life, Veestro has long-embraced the mission of simplifying tasks in the home, especially in the kitchen. The launch of the new website and company rebrand is a continuation of that mission to fulfill the needs of consumers today looking for healthier options to support a busy lifestyle. "Our vision has always been about making healthy food available to everyone," says Monica Klausner, Co-Founder and CMO of Veestro. "We wanted the redesigned logo and website to reflect the easiness and simplicity of our new mantra: Plants Please. Your taste buds. Your body. Your schedule. Veestro is here to please with incredibly delicious meals that happen to be made from plants—fresh-frozen and waiting for you on your doorstep when you get home after a long day. Pick your favorites, we do the rest. It's that simple."
Leading up to this announcement, the company announced in April that it had secured $1.5 million in financing, an investment led by M&A Capital, Inc. and Starcorp International S.A. The funding assisted with the rebranding marketing efforts working alongside the company's already aggressive growth driven by health-minded consumers looking for convenient solutions to meal planning and preparation. With the growing trend of plant-based alternatives within the meal delivery, Veestro is positioning itself to be a leader within the industry. Additionally, since the company's launch in 2013, sales have increased by more than 300% per year, mainly due to the ever-increasing trend of healthy eating paired with the growing need for day-to-day convenience. Veestro has already increased distribution to encompass all fifty states, hired 25 new employees, and relocated to a new 20,000 square foot facility. "From the first day we launched, we knew this company would take off. It offers the convenience that today's consumer deems necessary" commented Mark Fachler, Founder and CEO of Veestro. "Our objective for the rebrand is simple - to showcase Veestro as an innovative company dedicated to pleasing people. Our new look is clean, vibrant, and inviting, relaying that healthy eating is attainable for everyone."
Building on this momentum and the current demands driven by consumer behavior, Veestro's move to rebrand is designed to bring seamless solutions and showcase the full depth of the company's capabilities to its customers. As Veestro continues to grow, the company will also plan to expand on its product offerings, such as new meals and shorter delivery time, in the coming months.
For more information about Veestro, as well as up-to-date news, trends, recipes and more, please visit the new site at www.veestro.com.
Veestro provides a whole-foods, plant-based diet for the overworked and overscheduled individual. Created by a brother/sister duo Mark Fachler and Monica Klausner, who grew up learning to appreciate the value of a home cooked meal, Veestro delivers a complete solution to its customers: healthy-plant based meals, created from wholesome ingredients, ready to heat and eat. Veestro meals are all-natural, preservative-free food that's high in protein and fiber, packed with nutrients and simply delicious – straight from your refrigerator or freezer. Veestro prides itself on being part of movement that proves you don't have to sacrifice taste and convenience for health-conscious, nutritious food.
Contact: press@veestro.com